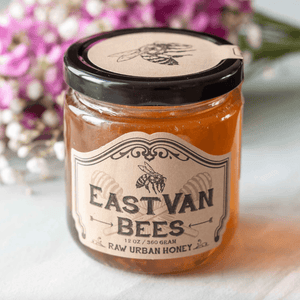 Add on gift- East Van Bees Honey
A wonderful product to support our community and nature in Vancouver!
EastVan Bees Urban Honey comes from the flowers, trees, parks, and gardens of Vancouver, Richmond and Burnaby. All hives are hosted by local residents and community gardens. When we harvest, we maintain the neighbourhood-level origin of the honey in each jar. With honey from EastVan Bees, you can taste how Urban Honey changes throughout the year. Different flowers and locations around the city give each batch of Urban Honey a unique flavor. It's sort of like the idea of terroir in wine production – the characteristic taste and flavor imparted on a wine from the growing conditions in which it was produced - but with our neighbourhood-specific honey, you get to experience the unique sweet-side of our local areas.
This is a truly artisanal honey.
 Each Jar is 12 oz or 340 gram by weight.
 Flower Delivery available for all over Vancouver and lower Mainland.
Delivery Rates and Policies - Please read
We also carry:
Our gifts are all ethically sourced, featuring local or Canadian small businesses and female business owners.