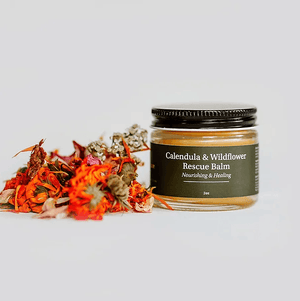 Calendula & Wildflower Rescue Balm
Safe for all skin, and skin ailments. Apply liberally to affected area,
this anti-oxidant packed salve can be used for eczema, scarring, an anti-aging mask, cuticle oil and more.
Perfect for gardeners hands! 
Uses: Apply as an overnight mask to face and neck, as a moisturizer over toner and add to your current skin routine. 
Grapeseed and safflower oil, clover, rose, yarrow, and lavender petals, beeswax, seabuckthorn, vitamin e, rosehip oil, essential oil of geraneum graveolins.
We also carry: